San Francisco's "Chicks with Sticks" takes knitting to a new fashion "I do"! Consider these "knit" alternatives to the standard ring pillow for your wedding ceremony:
A knit CUPCAKE (really!): Go to: http://www.sfchickswithsticks.com/ and scroll down to August 21, 2006 to see Stephanie's creations! Made well like hers, it looks so sweet & pretty (without being cheesy).
If felting is your thing, check out this flickred FELT BAG by Elina:
or what about something REALLY unexpected:
A miniature, knit-embellished tree form with your rings dangling from the branches. Don't think it can be done? Check out this life-size version I saw on flickr for inspiration. Add a few "blossoms" and you're good to go for a wedding.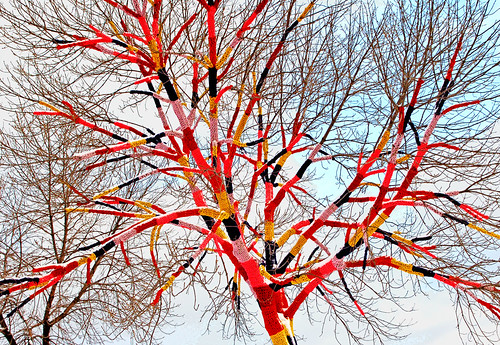 For the more classic bride, knit yourself a tiny bag sprouting petals to match your color scheme -- like these from Noni bags -- and call yourself one-of-a-kind.